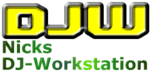 Start
::
Philosophy
::
Features
::
Images
::
Download
::
Tips
::
Impres
Infos's
The
DJ-Workstation
is an DJ application for stress-free working with ogg/vorbis, mp3 and wave files.
The main concentration is in the effectivity and stableness not in design or features. The DJ-Workstation is not a megabyte monster. It is small and fast. No registry entrys were doing an no rubbish will be copied in windows systen directory.
To install the
DJ-Workstation
you had to unzip the compressed file into a directory and start the "djw.exe" from there. That's all! An install routine will be included at later releases.
This project wasn't updateted since 13.12.2002. One reason is, that I earn my money now with coding an do not habe really time to work on a DJ Software. But it is not dead!. I work on a complete platformindependend rewrite cause I switched to Apples OSX and Linux. Unfortunately I can not say when the new Version is ready to release.
Systems requirements
Operating system:
Windows 9x Direct X 3, Windows NT 4 since SP 3, XP/Vista with compatibility layer
CPU:
Intel Pentium 166 MMX or equal
Memory:
ca. 2 MB extra plus the needs of your OS
Sound device:
almost one DirectSound-ready sound deviceor using with headphones two soundcards are necessary